If you have grown up in cities or suburban areas, you are familiar with massive traffic in urban areas. Hence, you use bikes for short commutes in your neighbourhood, go to school or work to spare yourself the hassle.
Are BMX bikes good for commuting?
BMX bikes are good for commuting as long as you're riding for a few miles in the city or short hills. Its small-frame structure allows you to adjust it comfortably on high traffic roads and withstand a lot of abuse. With the proper maintenance, you can utilize its service for a long time.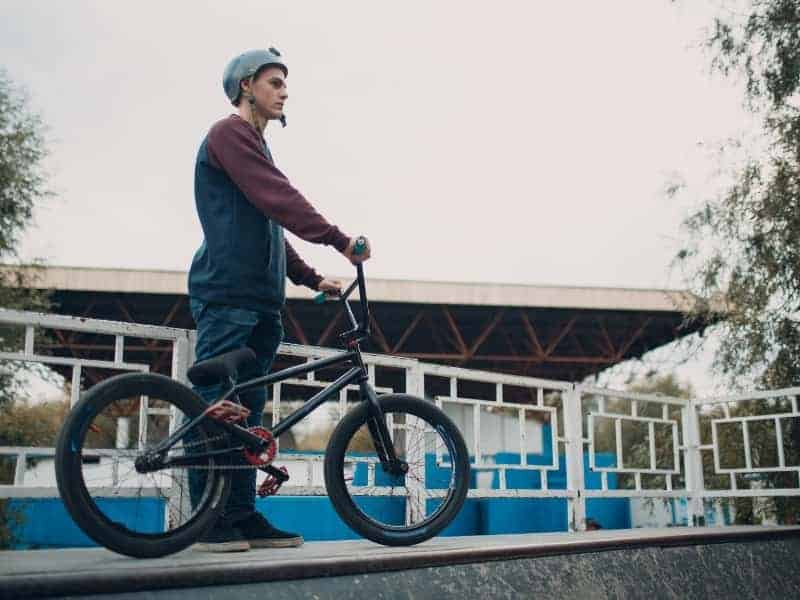 Can you commute on a BMX bike?
You can commute on a BMX bike to ride for short distances in sub-urban areas or even in small hills. Commuting on a BMX bike for a long time can get challenging because of the way it's designed.
The lower saddle position makes you stand up after riding for a few minutes. It gets uncomfortable to commute in such a position for an extended period.
You will face problems because of the weak braking system. But you'll be fine as long as you're commuting slowly on the city roads wearing a helmet.
With many traffic and fast speed cars in urban areas, riding a single-geared bike can be pretty daring. But you can still commute on your BMX if you remain cautious and maintain your bike well.
Your BMX bikes don't contain racks, and the handles are a bit snappy. The handlebars can be a problem while commuting on your BMX bike for a long time. However, you can commute on BMX bikes without any hassle for a shorter distance comfortably.
BMX commuter conversion- Tips to make your BMX better for commuting
Six tips to make your BMX better for commuting-
Upgrade the saddle position:
The ideal saddle position to commute on your BMX bike is around your waist. You will get exhausted while riding a BMX bike in a standing position. Arrange the seat a bit higher so that you can commute in the sitting place.
Fix front brakes:
BMX comes with rear brakes only, which makes it a poorly developed brake system. Strengthen your bike's brake system by adding another front brake. Now you can apply instant brakes while commuting in the busy urban city traffic.
Add headlights:
Add a headlight in the front part of your bike to commute conveniently at night or dark places. It will help you overcome the obstacles on bumpy roads.
Attach water bottle cages:
You will get sweaty and thirsty while commuting in summer, even for a short period. Carrying a water bottle bag with you will make you more exhausted. Attach a water bottle bag in front of your bike to have a more convenient and comfortable ride.
Place suspension:
BMX bikes with no suspension make your body used as a suspension which becomes added pressure on your body. Add a suspension to your BMX bike to spare your body from this hassle.
Increase gear systems:
Add multiple gear systems in your single-geared BMX bike. It allows you to have more control over the speed of your bike. Hence, commuting will be much easier during the hectic traffic hours.
What kind of bike is best for commuting?
List of six different kinds of commuting bikes-
E-bikes:
E-bikes are becoming very popular among cyclists nowadays. You can commute on these bikes even when you're heavily loaded and still cover long distances. You can use them as alternatives to a car because of their more efficiency than other bikes.
Folding bikes:
Folding bikes are convenient and comfortable to commute on, especially if you're travelling halfway through a bus or train and then by riding.
You don't need much space to store them either if you have storage issues at home. They require less maintenance comparatively; just set up your bike, and you're good to go.
Hybrid bikes:
A combination of mountain bikes, off-road flat tire bikes make up the hybrid bikes. You can even ride on the rough, bumpy, and mountain roads pretty comfortably with these bikes. Running a race, field trip or going on a family weekend picnic or adventurous trip – you can ace all of these by riding a hybrid bike.
Fixed gear bikes:
Fixed gear bikes, also known as single-speed bikes, are very simple to ride on and much cheaper. You should opt for these bikes if you don't like the fuss and maintain your bike from time to time.
However, you can't ride them conveniently while commuting in hilly areas.
Gravel or adventure road bikes:
Gravel bikes can be excellent commuters when you're riding on a poor road with mud, dirt and stones. These bikes can overcome all obstacles in off-road rides and are also commended for a little adventure in a mountainous area.
Mountain bikes:
The upright riding position and higher durability of mountain bikes make them viable for commuting in towns. If you only exclusively use it for commuting, leave the entire suspension and replace the tires with smooth ones to a better experience.
Are BMX bikes good for roads?
BMX bikes were originally designed for rough off-road terrains or mountain trails. But you can also ride them on-roads. You will get the best experience riding BMX on-roads with the modern freestyle BMX bikes or modifying your old BMX.
You can do solid stunts with these sports bikes and tackle all the obstacles on bumpy roads. With its small frame size but the strongly built structure, it can withstand a lot of abuse.
So you can easily ride your BMX inroads of urban areas or even off-road filled with mud and dirt.
Off-road or on-road, you can always count on your BMX bikes whether you want a fun chilled evening or an adventurous outing with your friends.
How to be safe while commuting on a BMX
Six safety measures while commuting on a BMX –
Safety measure 1:
Always wear a helmet. Even if you fall from your bike or collide it and get some injuries, your head will be safe, or you'll the least face head injuries.
Safety measure 2:
Cover your whole body and skin like a full-sleeve tee-shirt, jersey, long trousers, and socks to protect against injuries and any accidents.
Safety measure 3:
If you're wearing exposing clothes, wear shin guards and ridged knees. It will save you from fracture, dislocation or leg sprains during accidents.
Safety measure 4:
Wear gloves before riding a BMX bike. It will make you less prone to hand injuries, and you'll still be able to hold handlebars if any incident occurs.
Safety measure 5:
Use racing pants made of sailcloth or nylon to feel more comfortable and fit while riding. Racing jerseys and pants are lightweight and won't tear down quickly.
Safety measure 6:
Always oversee your road while riding. Try to avoid any deep holes and problematic areas if you're riding off-road. Don't let your guards down while riding up and downhills.
Are BMX good for cruising?
You will have to struggle a bit if you're cruising with your BMX. BMX was designed for harsh sports, race or stunt-making but not for cruising. However, if you still go on cruising with a BMX, you may have a good time for the first few minutes.
The main issue with BMX is the saddle position. When you're going cruising, you need a comfortable riding position. You can't have a good time cruising while standing up on the pedals.
BMX won't allow you to have leg extensions because of riding in a standing position. In a few minutes, you'll get exhausted, and your legs will be stung and stiff. So cruising on a BMX should not be on your options for weekends.
What is a BMX bike good for?
A BMX bike can give you excellent racing and sports experience. If you're participating in a race or stunt making shows, you should opt for BMX bikes. Its durability, rigid and robust structure can withstand a lot of abuse.
You can manoeuvre it while performing tricks and stunts. Travelling into short hills with these bikes will give you substantial pleasure. These lightweight bikes, known for their stability and speed, can provide you with a fantastic freestyle riding experience.
How fast can a BMX bike go?
A BMX bike can go a maximum of 45-46km/h with 16 rear. Usually, at full speed, it can go up to 25 miles per hour. The 30 A controller, 53 v and 13 ah, play an influential role in maintaining the maximum speed.
BMX bikes go fast compared to other bikes. You don't have to be bothered about the speed unless you're performing some stunts or jumping techniques. Multi geared BMX bikes will give you more options and control over the speed while riding.
However, you shouldn't speed up at maximum while riding on city roads if your bike has no front brakes.
Though BMX bikes were designed for sports or racing, you can commute on your BMX bikes as well. With the right choice and proper maintenance, commuting on a BMX can be fun for fewer miles.
Frequently Asked Questions:
What are BMX frames made out of?