If you are living somewhere where you experience both the rainy season and snowy season then you might have wondered about the functionality of snow boots. 'Can they be worn for rainy weather too?' might be a common question you have found yourself asking.
After all, if they can be worn for both the weathers then you might not want to spend the extra cash on buying two separate boots for each season.
Are snow boots good for rain?
Depending on the material, most snow boots can be worn in the rain as well. The majority of snow boots function in a way that will protect you from the rain, you just have to be well informed when buying one. If waterproof and fully insulated, they will protect your toes from puddle splashing.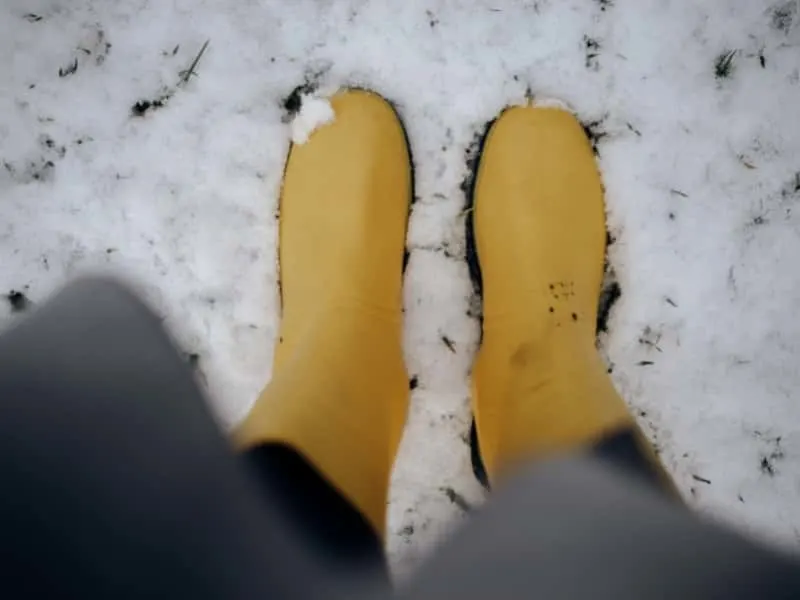 Can you wear snow boots in the rain?
If you are thinking about purchasing snow boots that you might end up using during the rainy season as well then you have to keep a few pointers in mind.
If your snow boots are waterproof then you can most certainly wear them out in the rain as the water will not be able to penetrate your soles.
Another criterion you should be looking for is traction for safety purposes. If these two criteria are fulfilled then you can without a doubt wear your snow boots out in the rain and it will keep your toes bone dry too.
Are snow boots waterproof?
Most snow boots are waterproof or water-resistant because they are designed to keep your feet warm and dry from deep snow and mud.
They tend to have a rubber bottom which will give you maximum support of being waterproof and prevent water from penetrating without needing any extra coating.
However, do not confuse snow boots with winter boots because while both names are similar sounding, they are very different in terms of support.
Winter boots are not waterproof and will not keep your feet dry. They are designed to keep your feet relatively warm in mild snowy conditions.
Are snow boots and rain boots the same?
They are not necessarily the same as they have some noticeable differences between them.
Generally, snow boots tend to be much heavier than rain boots as rain boots are made from a lighter material. They also have some other differences when it comes to their features and functionality.
What is the difference between snow boots and rain boots?
The key differences mainly lie in the features, material as well as the appropriate temperature at which you can wear either of them.
Material:
Rain boots are usually made out of PVC or rubber to make them resistant to water. On the other hand, snow boots tend to be made out of thick nylon, wool, rubber, or leather. It also has a rubber layer on the soles to keep water from penetrating inside.
Some snow boots made from fur or leather are fashionable. However, do keep in mind that they are not waterproof.
Lining:
Rain shoes have thinner linings such as cotton or polyester for example to make them comfortable for use.
However, snow boots have a much thicker lining or an insulating layer to help keep your feet warm. This layer is made from materials such as fur or plush.
Weight:
Due to the material rain boots are made of, they tend to be much lighter than snow boots. This makes rain boots more flexible to use compared to snow boots.
This can make snow boots look similar to jackets for feet as they are really voluminous and bigger than rain boots.
Length:
Most rain boots will come up all the way to your knees and will give you greater protection against the rain.
However, when it comes to snow boots, most of them come up to the hem of your pants to keep only your feet dry and prevent snow from entering. There are some you might find that long to give you greater protection against the snow.
Resistance against temperature:
Rain boots are only appropriate for temperatures that are above 5 degrees Celsius.
But snow boots on the other hand, since they are made for the cold weather, can withstand a temperature of up to -34 degrees Celsius without cracking.
Height:
Snow boots have an extended heel height as they are specifically designed so that you can walk around in areas with deep snow.
The higher the heel height, the more protection you will get. Rain boots do not have a similar feature as they are not made for such a purpose.
Design:
Rain boots are flexible and can be found in many different colors or patterns such as polka dots or animal prints.
But snow boots can only have a change in material to make them more fashionable. In that case, there is a chance that it might not be as water-resistant.
Can you wear Sorel boots in the rain?
Sorel boots can be worn in the rain and will offer you protection in the rainy season and keep your feet warm.
They can protect your feet from puddles and even shelter you through walking in the rain since they are made to be water-resistant and highly durable. However, do keep in mind that they are not appropriate for wearing in a river or standing in a puddle for hours on end.
What are the best boots for rain and snow?
If you want to conquer both the rainy and snowy weather but invest in one pair of shoes then you should do proper research on all the options available. This will help you get your money's worth and have a boot that will last you a long time.
SOREL Women's Out N About Leather Rain Snow Boot
SOREL Tivoli II High Herringbone Boot
ArcticShield Men's Rain Snow Duck Bean Boots
Sperry Top-Sider Men's Avenue Duck Boot Chukka Boot
Hunter Tall Rain Boots
UGG Adirondack Boot II
SOREL Tofino Felt Boot
BareTraps Elicia Boot
Will rain boots work in the snow?
Rain Boots usually maintain almost the functions that a typical snow boot would offer. However, rain boots are usually made to protect your feet from the water. Most rain boots are not insulated so they will not keep you warm from snowy weather.
However, it largely depends on a lot of factors such as how cold and icy it is as well as how much walking you have to do.
A thicker blanket of snow also means you will not have the heel height to navigate through the snow. You also have to keep in mind that below -5 degrees celsius you should not wear a rain boot out as they are not designed to withhold such temperatures.
But if the weather is suitable and the roads are not too icy, you can stuff a thick sock in your rain boot provided that it fits. If you do not have to do too much walking, this will be enough to help you run errands without any hassle.
Are rain boots slippery in the snow?
Rain boots are designed to be slip-resistant since you will be wearing them in the rain. It will also be slip-resistant in the snow, however that depends on the level of snow as well.
Some rain boots do not have enough traction which means that if you have to travel in an area where the level of snow is higher then there is a chance that you might fall and hurt yourself.
Are duck boots good for snow and rain?
Duck boots are very sturdy as well as waterproof. It has a rubber sole and comes up to your ankle. They are both versatile and comfortable and can be worn both for rainy and snowy weather.
Can you wear snow boots in the mud?
Snow boots are ideal for people that tend to spend a lot of time outdoors in the winter. This includes the boots for being ideal to be resistant in mud too, with the proper traction.
You also have to be careful about the material because fashionable materials such as fur may get ruined in the mud.
If you invest the time in searching for a boot that fulfills all the criteria, then it will be plausible for you to wear the same boot for both seasons.
You just have to make a well-informed buy and invest in one that offers you temperature and water-resistance as well as traction and heel height with the proper material of course.
Frequently Asked Questions:
How to Keep Snow Out of Boots?
Do Snow Boots Run Big or Small?