Snow pants are an important part of the apparel while you're out and it is about to snow. Comfortable snow pants can make your life much easier, because it's already tough navigating through the thick snow. While comfort is an important aspect, the fit is equally crucial.
When it comes to snow pants, people are often confused about whether to buy the exact size or a size bigger or a size smaller. Today we'll find the answer for you. So let's get started.
Are snow pants true to size?
Most snow pants available are true to size, but it mainly depends on the brand and the quality of the product. If you're someone with a wider waist you should get a size bigger for comfort and accessibility. However, for people who have a narrow waist, a size smaller would be the ideal fit.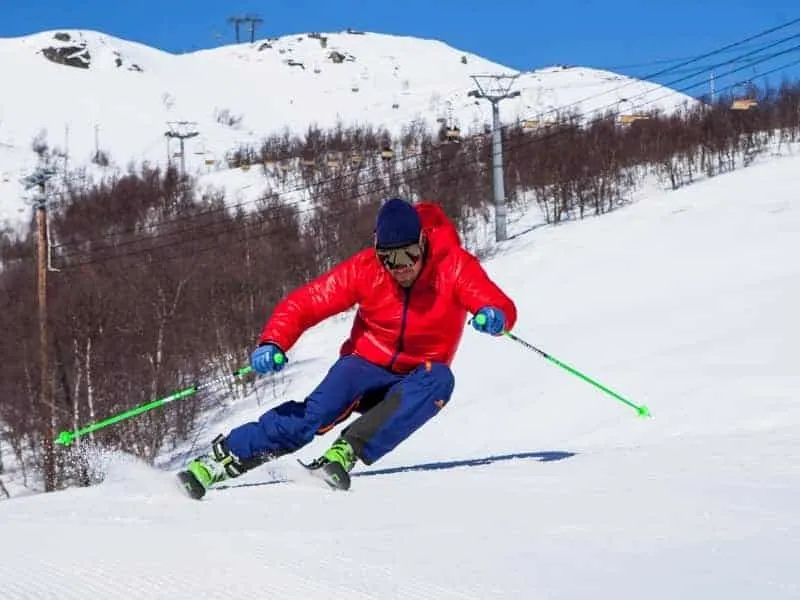 When it comes to pants, the ideal fit for everyone is a bit different. But generally, you'd want your snow pants to have a snug fit so that it doesn't fall off. At the same time, you don't want your pants to be so tight that you can barely walk.
If you're buying your snow pants online you should compare the measurements with pants you feel comfortable wearing. Having a reference always helps. And if you're buying offline then you can easily try it out.
Do snow pants run small or big?
Depending on the body shape of the person, snow pants can either run small or big as most snow pants are designed to fit a specific body type. People who have a wider waist require bigger-sized snow pants. On the other hand, if you have a narrow waist you should get a size smaller.
Lengthwise snow pants are longer than the normal denim pants because snow pants are meant to go over your snow boots. An ideal-sized snow pants should reach below your ankle bone. While looking for snow pants you need to consider the material as well.
If your snow pants can't provide the much-needed insulation, your lower half will get cold. Snow pants with a big fit will cause you the same type of problem, because the cold air will get in through different sections of the pants. So you must get the size that fits your body shape.
Why do snow pants run small?
Snow pants are undeniable segments during snow falls. So it should be a snug fit with your physique. There are various causes that make your snow pants run small.
Lack of elasticity:
Many snow pants are made out of non-elastic material for different reasons. But this creates confusion because lack of elasticity causes the snow pants to run small. While they are durable to an extent, getting the right size requires you to try them out multiple times.
No elastic waistbands:
Elastic waistbands around the inner seam of the waist produces a good fit. But when there is no elastic waistband, the sizing automatically goes small.
Some snow pants come with an option to adjust the waist with a belt but if you get pants without that option, your snow pants will run small.
Low-waist cut:
Snow pants have a traditional low waist cut that causes a bit of disruption in the modern way of sizing. As fashion has evolved over the years, females are leaning towards high waist pants for a better-looking fit.
As a result, the same size of a high waist pant is found to be small on a low waist snow pants.
Extra insulated pants:
Insulated ski pants provide warmth and comfort at the maximum level and that's why it is among the popular choices. But a downside to the insulated snow pants is it's comparatively heavier and compact in size.
The extra padding in the snow pants causes them to be a size smaller than the original fit.
Slim fit design:
These types of snow pants are narrow on the hip and pelvic region which might be trendy but uncomfortable for many. The slim-fit design does look good if it's not too tight. However, the main issue with this sort of snow pants is that it isn't true to size.
How should snow pants fit?
Snow pants shouldn't be too tight nor too loose, but it should be a snug fit, because you will be wearing multiple layers underneath your pants. Getting a size bigger than what you would wear normally is the ideal move.
However, you should try it out with different layering to identify the best fit for you.
Snow activities require fast movements on the slope and if you get tight snow pants you won't be able to move freely. It will hamper your performance and may even lead to a serious injury.
So, before buying one, you should check if you can squat, jump and stretch freely wearing your snow pants.
Getting oversized snow pants is also an option, because no matter what, you'll have to wear extra layers underneath. But if the pants are too baggy, you might trip and fall.
So, a size that fits well around the waist and has space for added layers around the hip and ankle area is what you should go for.
What size snow pants do I need?
You can choose your snow pants size according to your comfort as it is related even to your safety. There are various sizes available for snow pants. Such as:
Small:
There are different sizes in the small category including small and extra small. Some brands even offer three different sizing options in the small category.
The waist for these pants measure somewhere between 28 inches and 32 inches and the inseam length is between 29 inches to 31 inches.
Medium:
Medium sizing is one of the most common choices for people of different body shapes. The waist size of these medium-sized snow pants is around 32-34 inches making them the ideal fit for an average person.
The height of the pants differs between 31 inches and 32 inches.
Large:
Large-sized pants have a waist of 34-37 inches and a height of roughly 32 inches in the inseam. Another variant of the large category is the extra-large (XL) size. XL pants have a waist of 37 inches to 40 inches and some brands make them even bigger.
Plus-Sized:
Even in the plus-sized snow pants category there are multiple options. Starting from the 2X size to going all the way to the 4X size.
Some brands offer even bigger pants and you can customize the height of your pants according to your height and body shape.
Size chart for snow pants
| | | | |
| --- | --- | --- | --- |
| Inches | Waist | Inseam | Hip |
| XS | 28-30 | 30.5 | 34-35 |
| S | 30-32 | 31.5 | 36-37 |
| M | 32-34 | 31-32 | 38-39 |
| L | 34-36 | 32-32.5 | 40-42 |
| XL | 36-39 | 32-34 | 42-46 |
| XXL | 39-42 | 32-35 | 50-52 |
| XXXL | 43-46 | 31-33 | 52-54 |
| XXXXL | 46-49 | 31-33 | 54-56 |
Do snow pants stretch?
Depending on the quality of the fabric, snow pants can stretch. Snow pants that are made of polyester or nylon won't stretch that much even after years of rough use. However, other materials such as cotton might loosen up along with time.
Polyester and nylon-made snow pants are designed to handle harsh weather conditions. Even under heavy snow, you can rely on these pants for durability and performance. Exposure to wet conditions during snow activities is why you need a pant that doesn't stretch.
However, normal snow pants that are available in your local stores will start to stretch over time. So it's better to check the material before you go ahead and make the purchase.
Are snow pants supposed to be baggy?
Since snow pants are true to size, they shouldn't be baggy. Baggy snow pants would completely disrupt your motion in the snow. You might even trip and fall over if your snow pants are too baggy.
After wearing a few layers underneath the snow pants, it should fit perfectly with your hips and waist. For certain sports like snowboarding, athletes prefer a looser fit. That's because they get to wear a few articles of cloth underneath their snow pants.
While going down a slope, having baggy snow pants may cause you to injure yourself. So you need to ensure that your pants fit well without being too tight to the body.
Do Burton snow pants run true to size?
Burton snow pants are known to be great in quality but the sizing of Burton snow pants has been an issue for many customers. The snow pants from Burton don't run true to size and they generally run larger than the mentioned size.
So, if you want to buy Burton snow pants you should go for a size smaller than what you would normally wear. Don't worry whether you are going to fit in them or not because running large has become a common aspect for Burton pants.
You will be able to wear other clothes underneath them in incase your pants are larger than the fit.
Where can I buy plus-size snow pants?
You can buy plus-size snow pants from many online stores. The go-to place for online shopping i.e. Amazon has a variety of snow pants collections of different sizes, colors, and designs.
On top of that, individual brands also have their own online stores where you can buy plus-size snow pants.
Both male and female plus-size snow pants are now widely available. You won't have to compromise on style or durability anymore which was a serious issue for plus-sized products back in the day.
You will find plus-size snow pants in local super shops as well but the quality might be an issue depending on where you buy it from.
To sum things up, everyone has confusion about the size while shopping for snow pants. The best way to go about it is by identifying your body measurements correctly and then buying accordingly.
Frequently Asked Questions:
Can Snow Pants be Hemmed or Altered?
Can You Wear Snow Pants Skiing?
Can You Put Snow Pants In The Washer & Dryer?