Ski goggles are an important gear for skiers as they keep the skier safe from impact. Ski goggles also help with vision as the viewing angle improves greatly. Many skiers wear sunglasses instead of ski goggles, but it's not ideal.
Many skiers who wear glasses have a common question, whether they can wear their glasses with the ski goggles. It's time to find the answer to your question.
Can you wear glasses with ski goggles?
You can wear your glasses with ski goggles if it's big enough to fit the glasses underneath. Skiers who have eyesight issues wear contact lenses instead. You can also get a prescribed ski goggle but if you'd rather wear specs, then getting a ski goggle that fits should be your target.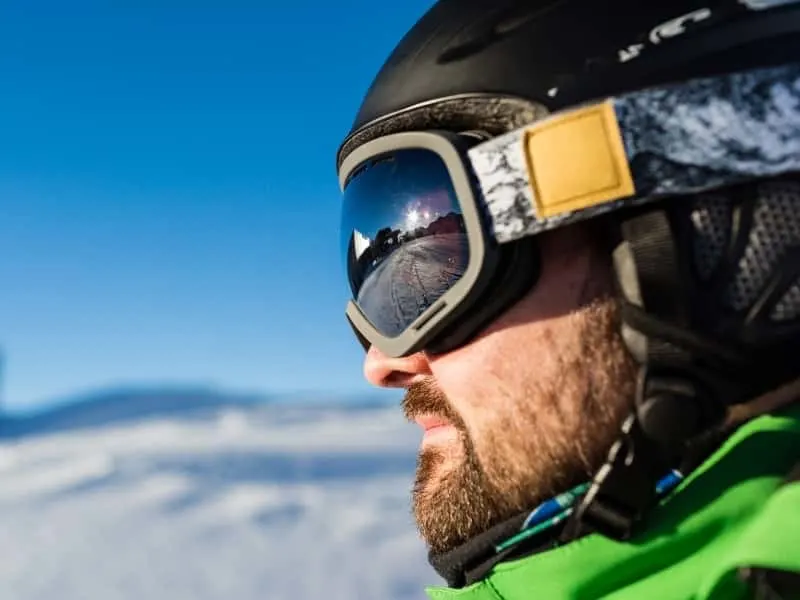 Do ski goggles fit over glasses?
Ski goggles and prescribed glasses have always been opposing one another. If you get a big enough goggle then it might fit over your glasses but some of the functions of the goggle might not work.
For instance, the fit won't be good and air might seep through and make your glasses foggy.
There's a type of ski goggles known as OTG ski goggles which stands for Over the Glass goggles. The OTG goggles sit over your glasses comfortably without pushing your glasses onto your face.
Compared to the normal goggles, the OTG goggles are much more spacious and the padding around the goggles won't crush your specs.
Ski goggles that aren't labeled as OTG, may get the job done as well. So you should try out different sizes and see which one is more comfortable but secure.
Can you wear glasses while skiing?
It is possible to wear glasses while skiing depending on how you wear them. However, you should never wear only the glasses as you will put yourself in danger.
As ski goggles are vital for your protection during skiing, you should wear your glasses underneath the ski goggles for safety.
If you're planning to wear glasses while skiing, you will need to get something suitable for outdoor activities. Glasses that drop to your nose or don't fit your face properly will fog up instantly even if you have a goggle on top. So getting the measurement right is equally important.
Many people who are new to skiing or snow sports, wear only glasses while skiing which is a no-go. No one would want their prescribed glasses flying off while going down a slope. On top of that, you might injure your eyes with snow, debris, or even tree branches.
How do you wear ski goggles with glasses?
Finding the right frame:
When we talk about the perfect fit, both the ski goggle and the prescribed glasses have a role to play in it. Fashionable glasses might have a weird fit and they will surely get your goggles foggy.
So look for a sports frame glass that sits on your face perfectly and doesn't come off due to intense movement.
Proper Ventilation:
Properly ventilated ski goggles are a must if you want to wear one with your glasses. Otherwise, when your face starts to breathe, your goggles will get all foggy. There are multiple ways to solve this.
But the easiest way is to get a ski goggle that has more vents around the edges, you won't have to tackle this issue while skiing or snowboarding.
Buying a Size Bigger:
One way to wear ski goggles with glasses is to buy a size bigger than you normally would.
If wearing a glass beneath the ski goggle is a must then you shouldn't buy the perfectly fitted goggle. Go for a ski goggle that can accommodate your glass without making you claustrophobic.
Setting up the perfect system:
Your glasses, the ski helmet, and the ski goggles need to complement one another fit-wise. Helmets can also cause trouble if it's loose because ski goggles go around the helmet.
Not having the perfect system will cause the helmet to bounce which in return will shake the glasses and the ski goggles. You should avoid getting a helmet that blocks the vents of your ski goggles.
What ski goggles fit over glasses?
Ski goggles that fit over the glasses aren't that hard to find if you know where to look. Let's see which one suits you better.
Over the Glass (OTG) ski goggles:
As the name suggests, this ski goggle is meant to go over your spectacles. They are designed in such a way that the glasses underneath don't cram up or create inconvenience for you.
The added padding and lengthy straps can be adjusted according to your frame size while leaving enough room.
Salomon, Atomic, Outdoor Master are some of the brands that are known for producing quality OTG ski goggles.
Oversized Ski Goggles:
Getting an oversized ski goggle is one of the easiest options you have. You can get a polarized ski goggle that's good for daytime use. All you have to ensure is that your ski goggles fit over your glasses.
You can buy oversized ski goggles from almost any brand out there, as long as the quality is good.
Ski Goggles with Lengthy Straps:
Ski goggles often come with a fixed strap that isn't adjustable. So look for a ski goggle that has adjustable straps to help you find the right fit with glasses on. Because it is tough to find the right fit on the first look.
Ski goggles with fans:
To tackle the issue of fogging, you can get a ski goggle that has a built-in fan.
The fan runs on battery and it keeps your face safe from sweating. But one problem with this sort of goggles is that you will require to change the battery every once in a while.
Although these sorts of ski goggles will be hard to find in your local ski shop, you can get them from brands like Smith and Pair Soft Win.
Graphene ski goggles:
These types of ski goggles have managed to incorporate graphene heating film to control the moisture and air density inside the ski goggle.
You will be able to adjust the heating levels according to your conditions. Sable produces this Graphene ski goggle and by getting a larger size you will be able to wear it over your glass.
Can I get prescription ski goggles?
Another option for people who need prescribed glasses is to get a prescribed ski goggle. By getting a prescription ski goggle, you won't need to wear any glasses underneath. Consulting a doctor beforehand would allow you to access everything better.
However, prescription ski goggles are a bit expensive compared to the other ski goggles in the market. On top of that, since the glasses are powered, you won't be able to take them off even when you're eating and drinking during breaks.
How much do prescription ski goggles cost?
Prescription ski goggles cost higher compared to the other ski goggle variants. Price may also vary compared to the quality of the brand. But typically a standard prescription ski goggle costs around $200 to $300.
Kids ski goggles cost less compared to adult ones. Typically, they cost around $25 to $50. The prices also vary depending on where you order the product from.
You also have the option to ship ski goggles from international websites. But prices will increase depending on the country and shipping regulations.
Can you wear prescription glasses under ski goggles?
If the ski goggles are big enough to accommodate normal glasses, you will also be able to wear your prescription glasses underneath. Prescription glasses need to be adjusted to the frame to have a good fit.
Instead of typical frames, you should get a frame that fits well to your face. Because as discussed earlier, loose frames won't do the job for skiers and snowboarders.
Are ski goggles necessary for spectacles wearers?
Ski goggles are a must for everyone including spectacle wearers. Ski goggles protect you from all kinds of risks that may even be career-ending. In addition to the protection, the viewing angle also improves greatly with a ski goggle.
Spectacles don't provide the necessary protection you require in snow activities. When you combine your spectacle with a properly fitted ski goggle, you won't have to worry about anything else that much.
How do I keep my glasses from fogging under my ski goggles?
Fogging occurs due to a lack of ventilation inside the ski goggles. The ski goggles that aren't big enough to fit your glasses inside, will eventually start fogging up. You can try different anti-fog products to tackle fogging.
There are a variety of anti-fog products available including anti-fog spray, anti-fog wipes, and anti-fog clothes. You can also take a scientific approach by wearing appropriate clothing to ensure that your body doesn't overheat.
But buying a ski goggle that can fit your glasses and has a good ventilation system should be your course of action.
When do you need ski goggles?
Snowsports can be dangerous if you're not careful enough. Taking preventive measures is a necessity for skiers. Ski goggles keep you safe from any unwanted danger and that's why you need them while skiing.
While skiing you are also prone to heavy sunlight and harsh wind. Ski goggles protect the eye and face from UV rays and debris. So, whenever you participate in snow-sports, you should get ski goggles.
To sum things up, if you want to wear ski goggles that fit over your glasses, you should get something that will be in position without fogging or cramming up inside.
Frequently Asked Questions:
Do Ski Goggles Come in Different Sizes?
Do Ski Goggles Fog Up? How to Keep Them From Fogging?
Do Ski Goggles Go Over Helmets?