A sailboat can be any kind of boat that is functioned to be propelled by a rigging process. Its structure can steer between too simple and too luxurious, i.e. there's no specific model for a sailboat which will imply the exact structure. It can be a plain and simple sailboat.
It can also be a tangled boat with high depth and a room underneath. Whatever the structure might be, taking a shower or using the bathroom while outing on a sailboat may often become necessary.
In such cases, a sailboat with the facility of a bathroom and a shower shall be very helpful.
Do Sailboats Have Bathrooms & Showers?
Sometimes. However, sailboats don't always have bathrooms and showers. In smaller sailboats, the bathroom and the shower are set in the same tiny spot; meaning, you'll have to shower sitting on the commode. If the sailboat is bigger even a little, the space may be broadened a bit.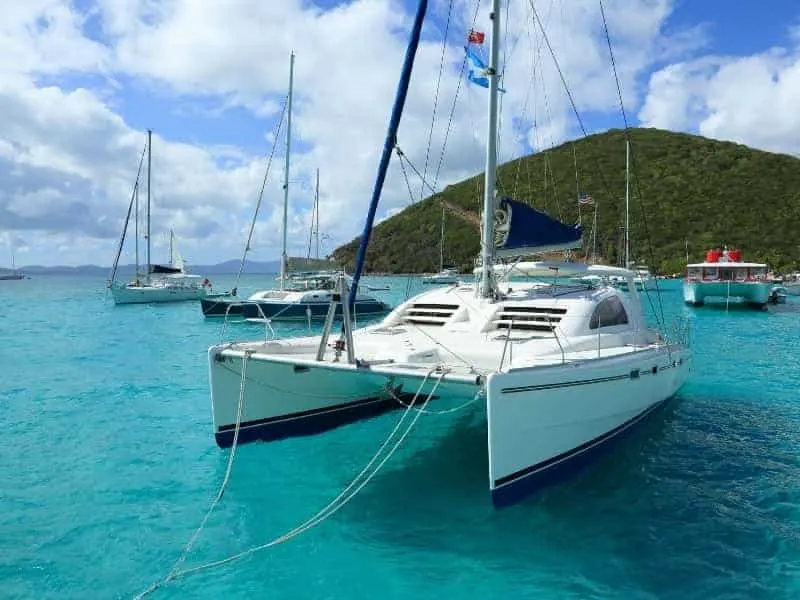 Sailboats are usually smaller in size which makes it hard for the maker as well as the designer of the boat to make space for the bathroom or even the shower.
So, some makers omit the idea of keeping space for bathrooms and showers. That's why some sailboats don't have bathrooms and showers.
On the other hand, some makers can still, however, manage space for such and even then the place is so tiny that there's no proper place to stand and take a shower. So, you'll need to sit on the commode and take shower!
In some exceptional cases, some sailboats have deeper structure as well as another floor under the boat surface.
This usually is built centering a room and that includes another room to attach the toiletries. Such bathrooms and shower places are pretty comfortable to be inside for a boat floating on water.
What Kind Of Boats Have Bathrooms?
Not all but there are some boats that have onboard bathroom and shower facilities. Regular boats don't come with such facilities. Only the boats with luxurious settings afford such facilities.
Some such boat types are mentioned below-
Sailboats:
Sometimes sailboats come with cabins. Such cabins make rooms for bathrooms and living areas. Not in most cases but in some cases where the sailboats are big enough to spare some space, there is a bathroom!
For example, the Catalina 315. This is a kind of luxurious boat. It even comes with interiors!
Pontoons:
Some pontoons with luxurious structures have bathrooms onboard whereas regular pontoons do not. Some mentionable models of the pontoons are- Harris V720 and the HRV ( Hybrid Recreational Vessel; a southland pontoon).
Cuddy Cabin Boats:
Most of the cuddy cabin boats come with toilets. Such toilets are set under the deck between the v-breth.
These toilets are sometimes portable and sometimes pump out but the portable toilets are more regular in the cuddy cabin boats.
Some mentionable models- Stingray 208CR, Bayliner VR5
Regal Boats:
Regal boats in some cases come with bathroom facilities. Some models for example Regal 26 Express has toilet facilities. This specific model surprisingly has a 18-gallon capacity waste tank.
It means that this boat model facilitates with the pump out toilet process.
Center Console Boats:
This kind of boat has a bathroom that literally has space in it. Such a bathroom is designed with a bathroom that privileges with spacing and comfortability. For example, the Scout LXF, Grady-White Canyon 376 etcetera.
Such boat allows for living so it definitely will have space spared for a bathroom.
Sea Ray Boats:
The sea ray boats are just amazing. These boats have spaces like cabinets and allow you to be comfortable around. The model, Sea Ray Sundancer 350 has this huge waste tank of 28-gallon capacity which definitely includes the pump out toilet process.
There are many more boat models like the Bavaria R40, the Bay Cruiser 26 that come with bathroom facilities.
How To Shower On A Sailboat?
Showering on a sailboat is not a piece of cake. It's not like usual showering. First of all, the boat is not usually a big one and even if it is, showering is easier when you have balance on the place where you stand which is quite impossible while on a floating boat.
That's not even the only issue. There is usually not a lot of water stored in the water tank of the boat. So, you cannot really use a lot of water and there's no way you waste it.
However, you can still shower on a sailboat whilst you use only a little water. Just follow these simple steps and you're good to go!
Wash basin: Make sure that there's a washbasin inside the bathroom and the drain is blocked so that the water stays.
Lean towards the tap: Turn on the tap and lean towards it so that most of the water falls on your head and stand up quick so that the water falls through your body. You can do this process another time if your body isn't drenched well.
Start shampooing: Once fully wet, you can start shampooing your hair until froth forms and then use the froth in your body (it'll help as a replacement to your soap).
Wash the hair: Now turn on the tap again and lean toward the tap and wash your hair quickly.
Clean thoroughly: Once the washing is done, stand straight again and then clean your body with the water falling from your head.
Repeat previous steps if needed: You can do this process as well as soaking your head one more time.
Soak the clothes in clogged water: Finally, when you're done, you can simply soak your dirty clothes in the clogged froth water.
How Do Toilets Work On Sailboats?
Toilets on sailboats work in three different ways i.e. there are three types of toilets that work different from each other. These are–
The Cassette Toilet:
As followed by the name, the cassette toilet has a pumping axil and removable water tank. It requires to be emptied manually so, whenever you're near ashore, look for a place to dispose the the waste.
This toilet type is affordable and reliable. There are two more kinds of this type.
Permanent Cassette Toilet: It doesn't require any manual labor. It just needs to be mobilized with water tank of the boat which will make the rinsing water automated.
Portable Cassette Toilet: Portable toilets are good for smaller spaces. Although it requires manual rinsing water, it allows you to put the toilet anywhere and then fold it and keep it anywhere you want.
The Pump Out Toilet:
People who are intending to live on their boat for a couple of months, the pump out toilet is the best option for them.
It is basically the toilet system that is used in homes; meaning, they have full water and piping system. The waste here is stored in a waste tank and can be cleaned thoroughly.
The Composting Toilet:
The idea of composting toilets even on a boat is really creative. This is entirely environment friendly. The tanks in such cases are separated; one for solid and another for the liquid.
This neither smells nor it does any harm to the environment. To help this process go smooth, you just need to throw some sawdust or some peat moss to it.
How do showers work on boats?
The shower taps are a rare case in most boats. These are not always found. In some cases there may be a washbasin and the tap on it is used to shower.
In some lucky cases, when the bathroom is big enough for a person to take shower, there is a tap. So, how does the shower system work? Where does the water come from?
The answer is very simple.
There is usually a water tank filled with fresh water from ashore. That freshwater gets supplied through the taps when needed and the used water then goes through the drain to the waste tank.
Where does shower water go on a boat?
There isn't an unlimited water supply on a boat. The water is limited so you need to use it only a little each time. Whatever the amount you use, each time some water gets wasted and goes through the drain.
Where does the drain end? Is it open to the sea or river?
Well, no! Inside the boat structure, thick pipes are connected through or across each other. If there's a space for showering, there has to be a tank where the water will go.
A pipe is connected from the drainage to the waste tank underneath the boat. The wasted water or the shower water goes to the tank through the pipe.
And whenever near to ashore, the tank is usually emptied manually to a place where the wastes are usually decomposed.
Where does toilet waste go on a boat?
In almost every boat, where there is the facility of a bathroom and a shower, there is a waste tank underneath. The drain from the toilet is connected to the waste tank through a pipe.
So, whenever the boat is on the shore, the tank is thoroughly cleaned and the waste is disposed of in the specific area of waste disposal.
Can you flush toilet paper on a boat?
You cannot flush toilet paper on a boat or anywhere in the world. The regular tissues that we use, or even the kitchen paper, toilet paper, whatever the paper is, are designed to hold their structure and strength even when wet completely for long.
These won't get scattered instantly which will lead to a clog in the system.
And trust me, you don't want that, not at least while on a boat. So, never flush toilet paper on a boat. Use a dustbin for these used toilet papers.
Bathrooms and showers are really necessary while on a boat for a long-duration journey. Most of the boat models these days have both bathrooms and showers and in some cases, only the bathroom.
No matter what's the cause or the fact, these two are like essentials for a comfortable long journey.
Frequently Asked Questions:
Does Sailing Make You Seasick?
How Should Sailing Gloves Fit?