Sailing is an outdoor activity. Sailing is the activity of your hands and brains. And to keep your hands safe while sailing, you can use sailing gloves.
These gloves are the best equipment to protect your hands. And they come in different sizes and designs. Choose your sailing glove according to your size.
How should sailing gloves fit?
Sailing gloves should fit just right in your hands. It should not be too tight or loose. It should be as fit to make a fist with your fingers. There have to be enough spaces between the fingers when you wear your sailing gloves. Very small or large gloves are not fit for sailing.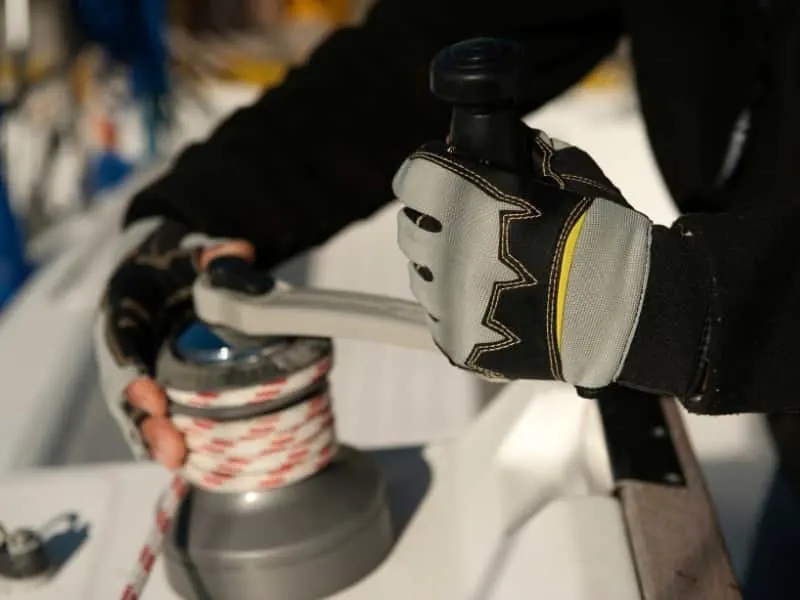 Should sailing gloves fit tight or loose?
Sailing is one of the most adventurous activities. It requires a lot of skills and experience. And the most important organ to use in sailing is your hand. So it is important to keep your hands safe and functional while sailing.
Sailing gloves are the gloves that you wear during your sail. Sailing gloves are perhaps a sailor's most personal piece of equipment.
Having a pair of gloves while sailing is a must. While these gloves protect your hands, they are very stylish as well.
Sailing gloves are for the protection of your hands. They make your sailing experience easy and comfortable. So choosing a proper set of gloves is crucial.
An ideal pair of gloves should neither be too tight nor too loose. It should fit properly. A proper fit glove should feel snug fit.
Sailing gloves have to be snug fitting. But not too snug that it hampers blood circulation. There should be proper room for your fingers.
Sailing gloves are used for protection and grip. If the gloves are too loose, they will not grip properly. If they are too tight, it will cut off your blood circulation. That is why moderately snug-fitting gloves are the best choice.
Benefits of a fitting sailing glove
Sailing requires energy, concentration, and a lot of strength. The organ which is most used in sailing is your hands. You have to pull ropes and sail your boat using your hands.
You can use gloves for your hands while sailing. It has a lot of benefits. Some of them are stated below:
Protects the hand:
Sailing gloves create a protective layer for the hands of a sailor. It protects the hand from excessive work. It helps decrease the wearing-out process and keeps your hands fresh and firm.
Saves from injuries:
Sailing involves a lot of activities. Pulling ropes, hoisting, handling the sails and jibs of the boat, etc. This all activities can cause various injuries like cuts, blisters, etc. Sailing gloves save your hands and fingers from these injuries.
Increases efficiency:
Sailing gloves increase the efficiency of your sailing by keeping your hands safe. Some gloves are mesh net in structure. Those gloves let your hand breathe and keeps it safe from itch and sweat.
Best for long sails:
Long sails require a lot of time and energy. Gloves can protect your hands in these long hauls by covering them.
Various designs:
Various stylish gloves are available in the market for various purposes. For example, there are two or three-fingered gloves, full-hand gloves, half-hand gloves, etc. You can choose from these according to your sailing needs.
How can I make my gloves fit better?
Perfect gloves will make your work easier. It will make your hands comfortable and protect them as well. It is a little hard to fit your gloves precisely.
Perfectly measured gloves are easy to fit. You can fit your gloves by following some easy steps. These are:
Put gloves on hand: Gently put on the gloves on your hand. Pull down the gloves over your hand by the calf.
Pull the gloves towards your hand: Now, with the help of your other hand, put all the fingers of the gloves in the respective fingers of your hand.
Pull gently by the calf: Now, gently pull down your gloves by the calf. This will fit the gloves on your hands.
Press the V of each finger: To ensure further fit, using the index finger of the other hand, press the V of each finger of the hand with the glove.
Fold your fingers upwards: Now, fold your fingers upward and make a fold in the knuckle area. This will fit the fingers even better.
Make a fist and open: Finally, make a fist and open your hand a couple of times. This will fit the entire gloves properly.
Do I need sailing gloves?
Whether you are racing or cruising, a pair of sailing gloves is important. Sailing gloves keep your hands protected. It also provides grip and helps you sail properly.
Rope burns and bruises are common in sailing. Having gloves saves you from getting injured while pulling ropes. Moreover, gloves make it easier to hold ropes and cables by providing a firm grip.
Wet hands during sailing may get you sick. Wearing gloves will keep your hands drier. They will also keep your hands warmer.
Sailing gloves come with extra padding for grip. Having a firm grip helps to sail a lot. That is why it's good to have sailing gloves.
Moreover, sailing for longer periods can make your hands numb. Sailing with gloves is really helpful for this purpose. It will protect your hands for a long time.
You can change your gloves to a new one if wearing them for a long time feels a bit tiring. Give your hand a little exercise, and then wear your gloves if they feel stuffy.
What will happen if gloves are too small?
Gloves are worn to protect your hands. They are the protective layer between your skin and the object of contact. So, they have to fit your hands to work effectively.
If your gloves are too small, they will decrease the efficiency of their purpose. Moreover, you will not be able to move your hands freely.
Sailing is a task of technique and labor. Sailing gloves help your hands from different injuries and extremities.
If you are wearing a small glove, it will hamper your sailing. Small gloves are not suitable for sailing purposes.
First of all, your hands will feel tightened. Uneasiness and less gripping ability will eventually lead to various problems.
When you are sailing for a longer period of time, they will cause problems in proper blood circulation.
A small glove will do more harm than help. You wear gloves to protect your hands during sailing. It can tear up in a short time if it is small in size.
How do you know what size sailing gloves to buy?
Finding a glove of the perfect size is perhaps the most difficult part while buying a new pair of gloves. People's hands come in all different shapes and sizes. However, there are only 6 standard sizes of gloves.
So, finding perfectly fit gloves is tough. But you can at least get the closest size that fits your hand. The best way is to start by measuring your hand.
Wrap a measuring tape on your dominant hand below the knuckle. Then make a fist. This is your hand width. Now also measure your fingers from the bottom of the palm up to the tip of the middle finger.
Based on these measurements, you can now choose your gloves from the size chart. A standard size chart is given below:
| | | |
| --- | --- | --- |
| Sizes | Size in Inches | Size in Centimeters |
| Extra Small | 6.5-7 inch | 16.5- 17.5 cm |
| Small | 7- 7.5 inch | 17.5- 19 cm |
| Medium | 7.5- 8.5 inch | 19- 21.5 cm |
| Large | 8.5- 9.5 inch | 21.5- 24 cm |
| Extra Large | 9.5- 10.5 inch | 24- 26.5 cm |
| Extra Extra Large | 10.5- 11.5 inch | 26.5- 29 cm |
How to wash sailing gloves?
Sailing gloves get dirty all the time. It's important to clean your gloves regularly. Cleaning your gloves regularly will make them hygienic and make it durable.
Regularly cleaning your gloves will also keep them supple and increase their longevity. A clean set of gloves will keep your hands both protected and germ-free.
To clean your gloves, you have to follow some specific steps. That way, your gloves will not get stiff and ineffective after cleaning. These steps are as follows:
Remove the accessories: You have to remove all attached accessories from your gloves.
Take water and detergent: Take a bucket of lukewarm water and add any bleach-free detergent to it.
Soak the gloves: Now, soak your gloves into the detergent mixed water. Keep it immersed for 3 to 5 minutes.
Rinse it off: After about 5 minutes, take it out and rinse off any excess dirt from both inside and outside the gloves.
Clean with water: Now, clean it off with water and dry it properly. Keep your gloves in a well-ventilated place while drying.
What are the best sailing gloves?
Based on performance, design, purpose, and design, sailing gloves come in many designs and types. You have to focus on the purpose you need them for.
Moreover, a stylish design glove with proper fit increases the beauty and efficiency of the sailing.
You should choose a pair of glove that provides protection, good grip, and also looks great on you. Here is a list of some of the best-selling Sailing Gloves out in the market:
Gill Pro.
Gill Championship.
Zhik G2 Performance Sailing Gloves.
WindRider Pro Sailing Gloves.
Musto Performance Short Finger Sailing Gloves.
Harken Reflex Gloves.
Harken Classic Sailing Gloves.
NeoSport Neoprene ¾ Finger Sailing Gloves.
Mrx Boxing & Fitness Sticky Sailing Gloves.
Ronstan Sticky Gloves.
Choose your sailing gloves according to the size of your hand.
Frequently Asked Questions:
Why are Most Sailing Boats White?