As an angler fishing rods are the most important item for you and you tend to use one fishing rod for many years but as with other objects after an unavoidable time, it's bound to be unusable, and to comprehend the time period you pretty much have thought over how long do fishing rods last?
How Long Do Fishing Rods Last?
Good quality and properly maintained fishing rods can last for decades (20-70 years) without giving any kind of trouble. But if the rods are frequently heavily used or not maintained properly after using under sunlight, humidity, and saltwater then they can go bad only after a few years of use.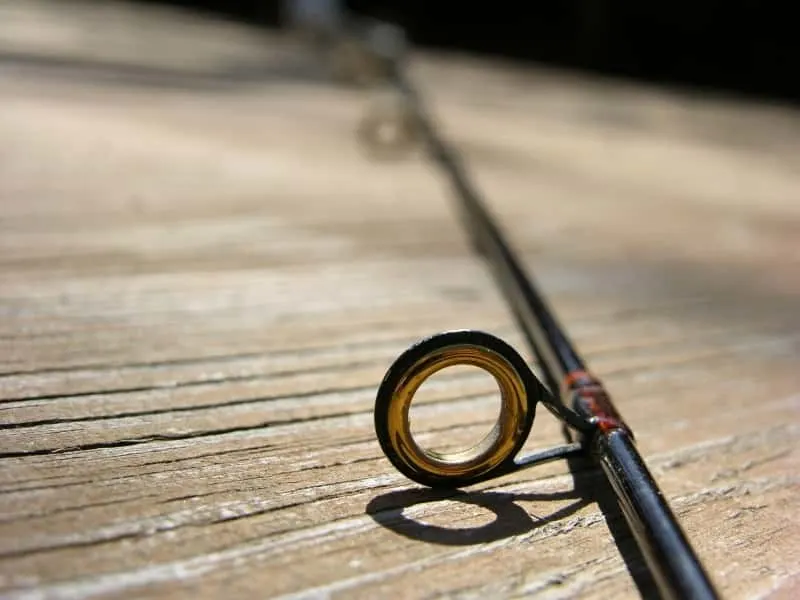 According to fishing experts, fishing rods have a life expectancy of 60-70 years if they are made of good quality material and protected properly maintaining the right methods. So even after decades, they will be in a functional condition without giving a hard time while fishing.
However, naturally it will lose its usefulness after a certain period or even sooner due to often being used heavily under the scorching sunlight, humid weather, and saltwater. Also, if they are not maintained appropriately.
How To Make A Fishing Rod Last Longer?
Fishing rods obviously will not last forever but the least you can do is adopt the techniques given below to make it last longer and enjoy its utility for a prolonged time.
Clean your fishing rod thoroughly
Cleaning your fishing ride thoroughly is a must because it will prevent breakage or corrosion. Therefore, clean them nicely with lukewarm soapy water or a cleanser and scrub delicately with a soft bristle brush for the mud, dirt, or sands to wash away.
Dry them well
Then allow them to dry out fully and wipe water and other elements with a soft cloth or towel.
Lubricate them
The very important technique is lubricating, lubricating protects rods from having any wear out and ensures proper functioning for a long time.
Store them properly
Proper storage actually can extend the life span of fishing rods, you can store them in fishing rod sleeves or tubes, these keep the rods vertically and are humid resistant. Or mesh rod covers, it is also a good option because it is easy to glide off and on and provides protection through cushioned bulk.
Or just install a fishing rod rack or wall shelves with a storage bin at your house or in the garage to store and protect fishing rods as well as expand their lifespan.
If you follow all these suggestions above listed, then surely you will be able to make your fishing rod last longer.
How Long Do Fiberglass Fishing Rods Last?
There is no specific answer to this question but as per the fishing expert's opinion, a decent quality fiberglass fishing rods can have a lifespan of at least up to 20-30 years fiberglass fishing rods are more durable, flexible, and stronger.
Since fiberglass fishing rods have more flexibility, they are more enduring and provides strength while fishing. Also, they are less prone to get brittle and break down.
However, the lasting period partially depends on your ways of using them too, if you store and preserve them appropriately, even a roughly and heavily used fiberglass rod can be used for 20 years easily.
How Long Do Graphite Fishing Rods Last?
Graphite fishing rods have nearly no exact time of going bad, the lifespan of them quite entirely counts on the ways you have used them. Also, they have a tendency of getting softer as time passes, however, the process may take decades, and after then it will go bad completely.
Though graphite-made fishing rods are quite a strong one but if these are often used for heavy fishing, for example, if you often use them for fishing for a whole day then it is apparent that they will go bad sooner than any other fishing rod.
Therefore, if you want to enjoy your graphite fishing rods for a long-time then you must protect and store them nicely, as specialists state, one can use a graphite fishing rod for 39-49 years without worrying about breakage or anything.
Do Fishing Rods Wear Out?
The quick answer is yes, fishing rods wear out after a specific time of being used continuously hingeing on the materials, ways of usage, and storing process.
However, good quality fishing rods take decades to wear out completely, and if they are stored and protected in a great manner, sometimes they can last for the longest time.
Previously fishing rods were made of steel or bamboo and now graphite and fiberglass have taken over the place, but no matter what material it is, fishing rods will worn out over time as it's natural and no object lasts forever.
But, your storing and preserving method can extend their utility and lifespan for a long time.
Can A Fishing Rod Be Repaired?
Yes, a fishing rod can be repaired depending on the severeness of the broken parts. Broken fishing lines guides, damaged tip of the rod, and a smacked ferrule can be repaired nicely with the right tools and substitute parts.
But, completely broken or largely cracked from the main shaft to the pole can not be fixed as it indicates a permanent destruction.
How much the fishing rod has been damaged determines whether it can be repaired or not. A broken rod tip can be fixed easily and won't even take much money or effort, a missing or ruined line guide can also be fixed but it is relatively complicated and time-consuming and note that totally missing line guides need replacement,
Cracked ferrule and damaged cork handle only can be repaired with the right tool and by an experienced person.
However, not all types of damages can be repaired, in that case, you better buy a new fishing role rather than putting effort.
What Fishing Rods Have Lifetime Warranty?
Though fishing rods tend to go bad after a certain time but a few fishing rod manufacturer companies are providing a lifetime warranty. Below 10 such companies have been listed.
Hammer Fishing Rods
Cashion Fishing Rods
Denali Rods
Dobnys Rods
Echo Fly Fishing
Eagle Claw
G. Loomis
Okuma Fishing rods
Star Rods
Waterworks- Lamson
How Do You Protect A Cork Handle On A Fishing Rod?
You can protect the cork handle on a fishing role by using cork sealant and it prevents oil and junk from infiltrating the cork's surface, as well as ensures a prolonged life of the rod handle.
Cork handles are prone to absorb dirt, fish slime, stink bait, debris and therefore, results in cracked or damaged cork handle.
If you want to prevent such a situation and protect your cork handle you better start applying cork sealant, all you need to do is clean the handle to wash away particles, then dry it fully, and lastly apply the sealant with a foam brush and let it soak and dry.
This way, the cork handle will have an extra coating that will not allow any dirt or sensor to penetrate.
A very good recommendation for you is, U-40 cork sealant, it's a highly praised cork sealant that protects the cork handle on a fishing rod.
How To Carry Fishing Rods In A Truck Bed?
The safest way of carrying fishing rods in a truck bed is to use the Portarod. Portarod is considered as a cost-effective and enduring truck bed holder which securely stays in a place by friction and doesn't require you to drill into the truck bed.
This method is an entirely customizable fishing rod option in a truck bed that allows anglers to keep as much as rod holders as per need. And it also fishing has the ability to adjust the angle of the fishing rod holder.
How To Store Fishing Rods In A Truck, SUV, or Car?
If you are having a hard time storing fishing rods in a truck, SUV, or car then to give you some easiest solution, here the processes are given below.
Storing fishing rods in a truck
Build a rod pod or tube
Tie the rod tips with a strap and let the handles rest on a PVC made base
Create a rod rack
Storing fishing rods in an SUV
Tie or keep your fishing rods in a rod sleeve or tube
If it is just one rod then store it underneath the back seat
Or if there are more than take 3 bungee cords, one in the middle and two in twisted position at back, then secure them with hooks and brackets and then place them in between the bungee cords.
Storing fishing rods in a normal car
Store safely them on the car roof rack and secure them with bungee cords
Or Remove the reel, tie them up, and put them securely in tubes or sleeves, and place them under the backseat.
How To Keep Fishing Rods From Sinking?
To keep your fishing rods from sinking you can use rod holders, fishing rod leash, or fishing rod float.
All these holder types will help to keep the fishing rod in a place also will hold them tightly from falling overboard and out of your way, especially when you are paddling, baiting a hook, or trolling.
Your fishing buddy's lifetime depends on your ways of usage and also on the materials. However, as nature's rule, they will go bad eventually after a certain time but it may take up to decades for a fishing rod to lose its utility completely, till then enjoy fishing using them!!
Frequently Asked Questions:
Why doesn't my fishing rod cast far?
How to fix a bent fishing rod?
Do fishing rods snap or break?