If you are wondering about investing in snow pants, then you might be wondering about the material it is made out of. Or you might be even wondering if there are options and designs available.
Before investing in a pair, it is important that you do proper research so that you can get a quality pair that will last you years to come.
What material are snow pants made of?
Snow pants usually tend to be made of polyester or nylon. These two materials are commonly available and their strong material makes them highly durable. You will find that some snow pants are made of microfibers and gore-tex which are more on the luxurious side, but still offer great support.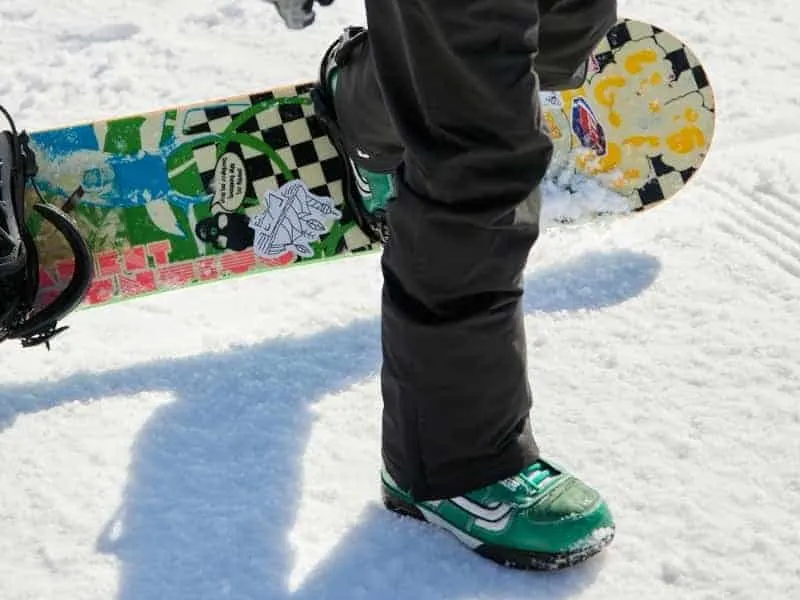 What are the best materials/fabrics for snow pants?
You need to ensure to do your research and invest in a pair that will be comfortable to wear and support you through many winters.
Polyester:
This is the most common fabric that consumers tend to go after since it is the best kind of fabric for such activewear. Not only is the fabric very strong, but it also does not stretch or shrink.
It is resistant to mildew and also dries off very quickly. All these properties combined make it a very good material to wear for winter. You can also find tightly woven polyester for snow pants which are further water-resistant and very durable.
Despite that, nearly all fabrics are coated with durable water repellent to intensify these functions. This fabric comes in different weights and the heavier it is, the denser it is.
Nylon:
Nylon is an abnormally strong material with great elasticity and low absorbency. It is resilient, can be dyed easily, and is fairly easy to maintain and wash.
Like polyester, even for nylon, an extra coating is often added to heighten its characteristics. Similar to polyester, nylon is also woven into different material weights. It is always indicated by a gauge measurement that you need to check before purchase.
Microfibers:
Some snow pants are made from nylon or polyester microfibers. These materials are woven into pants that are of high performance.
They are lightweight, breathable, resistant to wind and water, and very durable. These heightened properties make them very luxurious and expensive in the market.
Gore-tex:
This material is very porous with microscopic openings many times smaller than a single drop of water.
This makes the material not only water-proof but breathable too as the water vapor from body heat can fit through these openings.
You will find them being attached to base fabrics made of nylon or polyester to create a protective defense from the cold and wind.
Softshell:
This material is made from a woven fabric that is soft stretch and is highly breathable. It is also water-resistant and is quite flexible to move around in.
What are softshell snow pants?
Softshell snow pants are made from a material that is of high performance and synthetic. It is resistant to abrasion and tears and is very flexible.
This means that you are free to move around in it without any worry as it will give you a good range of mobility. However, they are only suited for mild conditions and you can wear them only if the conditions are relatively dry.
What are insulated snow pants?
Insulated snow pants are the most comfortable as they give you a mixture of warmth and protection from the snow. Unless you wear multiple layers it is highly recommended for you to wear insulated pants to keep you protected from harsh winter conditions.
The insulation weight tends to be measured out in grams. Depending on the conditions you will be exposed to, it will be necessary that you choose one catering to your situation.
Shell vs insulated snow pants, what's the difference? Which one to choose?
If you are going to be spending your day out and about in the winter, depending on what activity you do it is important that you choose the right pants for it.
There are quite some differences when it comes to shell and insulated snow pants and you need to know properly about them before deciding to buy one.
Insulation:
Shell pants are not insulated and do not offer much protection. When it comes to insulated pants, there are many different insulation materials you can choose from.
Each will offer a different level of insulation and you have the freedom of choosing. As a result, insulated pants will offer you a lot of protection against the harsh winter and you will feel more comfortable in such harsh conditions.
Versatility:
Shell pants will offer you more versatility as you will have the option of wearing multiple layers beneath them and keep yourself protected against the cold. You have the option of dressing according to the changing temperatures.
Insulated pants will not give you that option and neither will you be able to adjust much according to changing temperatures. So in a way you are stuck with what you buy.
Maneuverability:
Insulated pants tend to get quite bulky and as a result, you will not have much freedom in terms of mobility compared to shell pants. Shell pants are easier to move around in as they are quite lightweight in nature.
Which one you end up choosing depends on the conditions you are exposed to. If you are going to be exposed to harsh winter conditions, then you must opt for insulated pants. You will have the option of choosing the level of insulation.
If you are prone to weather that is not very cold, then you should opt for shell pants. They are flexible and in case the temperature drops a little you will have the option of layering up.
Do I need insulated snowboard pants?
Yes, it is recommended that when going snowboarding you opt for insulated pants. It will keep you fully protected from the cold and you can choose the level of insulation based on which conditions you will snowboard in.
However, if you are experienced and more active then you can opt for soft shell pants too. It will allow you to choose the layers underneath and as a result, offer you more mobility.
Do snow pants keep you warm?
It depends if you are wearing insulated snow pants or not. If you are wearing non-insulated snow pants then there is a chance that it might not keep you fully warm if the weather gets colder.
However, you can change this up by wearing additional layers underneath the snow pants to keep yourself warm even in harsh weather.
Are snow pants waterproof?
For every snow pants out there, there is a waterproof rating. The lower-rated ones are just water-resistant which means they will not be waterproof.
It is important that you check out the ratings catering to your needs before deciding to buy one. The greater the rating, the higher the waterproof abilities it will have. For it to be fully waterproof, the rating must be at least 1500mm and it also needs to have fully taped seams.
Are nylon pants good for snow?
Nylon is a very strong material with great elastic characteristics. It is reliable and is a waterproof material that will help keep you dry in the snow when worn as snow pants.
However, do keep in mind that it will not keep you very warm. It is important that if you end up being exposed to harsh weather that you wear more layers inside to keep yourself warm.
Are polyester pants good for snow?
Polyester is the most common material chosen for the winter and it has all the abilities to help protect you in harsh conditions.
Polyester pants keeps your body heat close and as a result, keeps you very warm in the snow. It dries quickly and tightly woven polyester is even water-resistant to further protect you in harsh weather.
Are water-resistant rain pants good for snow?
If it is not harsh weather, then you can suffice with water-resistant rain pants in the snow. You can even add layers such as fleece pants underneath to keep yourself warmer.
However, this will only be good enough for you in the case of light snow. If you are to experience harsher weather or go for such activities such as skiing or snowboarding then these pants will not be sufficient as they are not as durable as snow pants.
Are cargo pants good for snow?
Cargo pants are not designed in a way to help protect you in the snow. They will not provide you with warmth and you might not be able to layer up properly inside it as they may end up looking bulky. Especially if you go for winter sports then these pants are a no-go.
What it really comes down to is the weather you will be exposed to as well as the activities you will be partaking in. You have to do your proper research and figure out what will suit you the best. An investment in a good pair of snow pants will last you a long time.
Frequently Asked Questions:
What To Wear If You Don't Have Snow Pants?
What to Wear Under Snow Pants?
Are Snow Pants Supposed to be Baggy?